Lotuswortelextract
Lotuswortelextract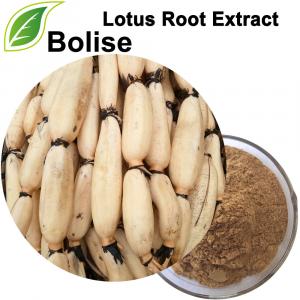 [Andere naam] Nelumbo Nucifera-wortelextract; Lotus wortelstok extract
[ Latin name ] Nelumbo nucifera
[ Used part ] Root
[Uiterlijk] bruin geel poeder
[ Hoofdfuncties ]
1. Has function of strong antioxidant capacity, as natural antioxidants, can scavenge free radicals;
2. Has function of anti-tumor, inhibition of capillary split lesion sites;
3. Can improve cardiovascular circulation;
4. Has function of anti-radiation, prevention of skin cancer.
About Lotus Root Extract
Fresh lotus root is one of the excellent sources of vitamin C. 100 g root provides 44 mg or 73% of daily-recommended values. Vitamin C is a powerful water soluble anti-oxidant. It is required for the collagen synthesis inside the human body. Collagen is the main structural protein inside the body, required for maintaining integrity of blood vessels, skin, organs, and bones. Regular consumption of foods rich in vitamin C helps the body protect from scurvy, develop resistance against viral infections, boosting of immunity, wound healing and to scavenge cancer causing harmful free radicals from the body.
In addition, Lotus Root Extract contains moderate levels of some of valuable B-complex group of vitamins such aspyridoxine (vitamin B-6), folates, niacin, riboflavin, pantothenic acid, and thiamin. Pyridoxine (vitamin B-6) acts as a coenzyme in the neuro-chemical synthesis in the brain which influences mood. Adequate pyridoxine levels help control nervous irritability, headache, and tension. It also cuts heart-attack risk by controlling harmful homocysteine levels in the blood.
Further, Lotus Root Extract provides healthy amounts of some important minerals like copper, iron, zinc, magnesium, and manganese. Copper is a cofactor for many vital enzymes, including cytochrome c-oxidase and superoxide dismutase (other minerals function as cofactors for this enzyme are manganese and zinc). Along with iron, it is also required in the production of red blood cells.
Voor meer informatie over het product kunt u de e-mail sturen naar [e-mail beveiligd]


Nadat u een online aanvraag hebt verzonden, zullen we u zo snel mogelijk antwoorden, als u niet op tijd antwoord krijgt, neem dan contact met ons op via telefoon of e-mail. Dit formulier kan uw aanvraag niet ontvangen van aol, hotmail, gmail of anderen, behalve het e-mailadres van het bedrijf.
E-MAIL:[e-mail beveiligd]
TEL: + 86 592 536 5868
WHATSAPP: +86 189 6516